The apprenticeship Mela PMNAM application is optimally designed for Pradhan Mantri Apprenticeship Mela (PMNAM), which is being organised on every second Monday of every month across the country. This application, with its attractive user interface, helps the user select the state from the map of India and then navigate to the district where the Mela is being organized. The user can view the locations of the Apprenticeship Fair Centers, a list of coordinators and their contact details, and various vacancies listed by establishments for nominated, alternate, and BOAT trades. DGT IT Cell designed and developed it.
Click here to download the PMNAM Mela Android app. The PMNAM Mela Android app can be used to view Apprentice Mela Center locations, Mela Center Coordinators, and Establishments and their vacancies.
PM National Apprenticeship Mela (PMNAM) 2022
The purpose of the PM National Apprenticeship Mela -PMNAM is to
Create a platform between candidates and establishments.
Facilitate candidates' access to apprenticeship opportunities and training.
Facilitate establishment to identify potential candidates and in
the selection of apprentices.
MSME is driving participation.
Apprenticeship Mela PMNAM App Download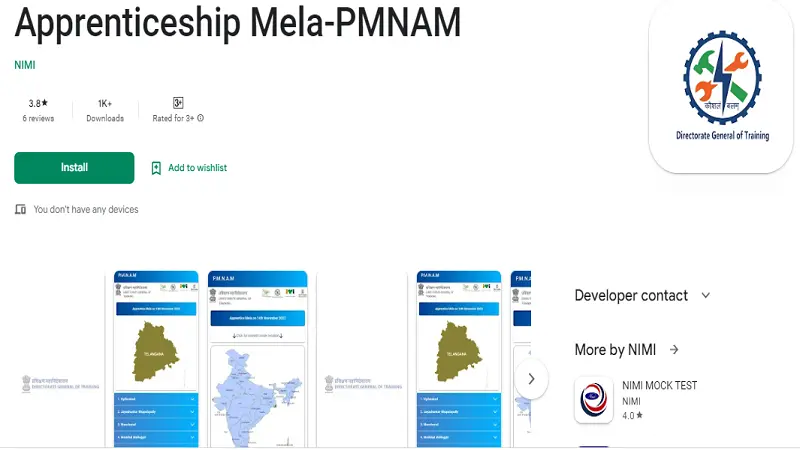 You can download Click here to download the PMNAM Mela Android App from the Google Play Store. It is very helpful for all the people who want to get the latest apprenticeship update from India. All of the apprenticeship programmes run by the government are listed here. Here are the steps to download the PMNAM Mela Android app.
Go to the Google play store on your device.
Search the "Apprenticeship Mela-PMNAM" or click on the given link.
Select the app and Tap to install it on your devices.
Important Link